The Club has two well established golf courses set in beautiful parkland and only 15 miles from the centre of London. The best time to visit is in Spring and in Autumn when the many different species of trees are either in blossom, or the leaves are turning. The main 18 hole Church Course is a challenge for both the experienced and casual golfer. It is kept well manicured with tree lined fairways, ditches and ponds. The feature hole is the 13th par 5. This was for many years the longest hole in the country measuring 621 yards. The Berry Grove 9 hole Course consists of par 3's and par 4's but don't be misled into thinking it is easy – it is not. This is a great course for beginners.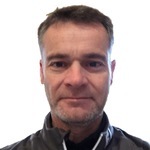 Tim Dunstan - Head PGA Professional
I have been the Professional at Aldenham for almost 17 years. Teaching is not just a job for me it is an absolute passion to see others improve .
I am currently head coach to Hertfordshire Golf Union and have held that position for almost ten years. I have personally coached 5 players to England international level and 2 have since gone on to achieve European tour status and another who won the Italian open on Challenge tour.
This certainly does not mean I only teach
---